Dementia Care Consultant
"My Mission is to help others avoid as much as possible the feelings of isolation and being overwhelmed that accompany being a family caregiver for someone with dementia."
November is National Family Caregivers Month. If you know a caregiver and would like to send them a card in recognition of their efforts, please visit my Greeting Card Universe gallery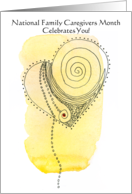 Caring for someone with Alzheimer's disease, or any another memory disorder is extraordinarily stressful. Family caregivers face enormous challenges with unexpected emergencies, as well as the always changing day to day needs of their loved one. Every day there is something new to deal with and you can be sure that there will be more and more days that you feel you have exhausted all your options and energy.
Patricia's goal is to help you avoid much of the panic she went through so as to make living with Alzheimer's and other dementia diseases less emotionally and physically draining for family caregivers, and for everyone who comes in contact with this disease: the person with memory loss, family caregivers and health care providers.
As your family's dementia care consultant, Patricia works with you as you and your family face the various stages of memory loss. Families rely on Patricia to help them through the common challenges, understand and cope with the changes that occur throughout the disease, and assist them with making the right decisions, choices, and transitions, that families, family caregivers, and the person with the illness are encountering.
Here is a resource guide for you to download. It is a work in progress so please come back to see how it is progressing. (It is in PDF format. I use the Foxit pdf reader, it's free and does not require Adobe on your computer or mobile device.) Resource Guide
You can always email me at Patricia@DementiaCareConsultant.net